InShade interior sails are the modern and efficient way to control heat gain and glare in any glazed space. Our tensile fabric sails are both versatile and effective, whilst their simple design compliments the style and dimensions of almost any commercial space. InShade now makes it easier to create the solution you want, providing the solar control you need while maintaining a light filled space with an open view.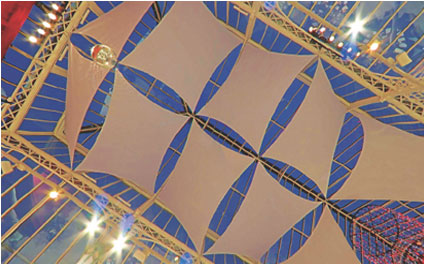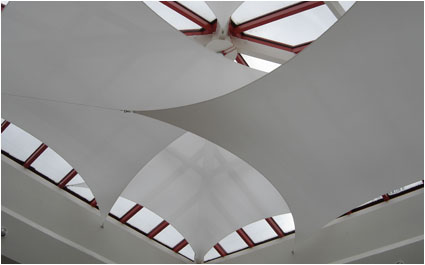 InShade sails and ceilings are designed and manufactured in the UK, using solar control tensioned fabrics developed specifically for this application. These tensile fabrics have a dense fabric structure that blocks the harsh power of the sun, with most of the suns energy reflected as heat. However, around 25% of the light is refracted through the layers of fibres that constitute the tensile fabric. These fibres diffuse and filter this sunlight, bathing the space below in cool diffused light. Making InShade Sails the perfect shade solution compared to alternatives such as rooflight blinds.
If you have a commercial space such as an office, restaurant, hospital or school requiring tensioned solar shading or solar control then please contact us today to find out more about InShade, our commercial shade solution.
---
Solar Control - 10 Year Anniversary - Case Study:
Our market leading interior shade sails first application was as a solution to glare in a specific area of a double height, fully glazed foyer. Following the development of a highly effective solar reflective fabric, a patent application was lodged on the 15th of May 2006 for a stretch fabric 'shade sail' and the first ever installation of what would eventually become our InShade Sails was at Aston University Birmingham on the 22nd June 2006.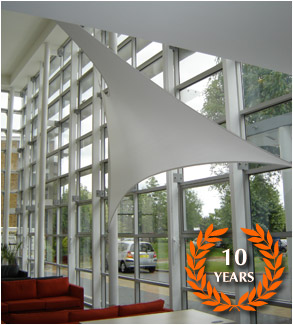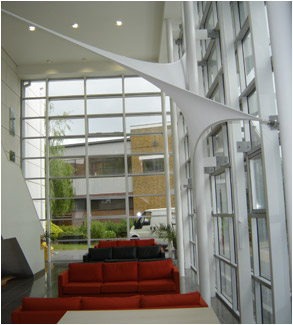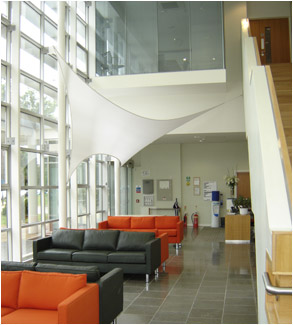 The available traditional shading solutions would have required covering most of the glazing with roller or pleated blinds, or attaching louvres to the outside of the building which would have also blocked most of the light. The InShade solution targeted just the problem area keeping the space open and bright. This solution was more cost effective, quicker to install and created a beautiful, sculptured feature in addition to providing the required shade for the receptionist. What was initially designed as a temporary solution for 6 months proved to be such a success that it remained in place for 4 more years, until the building was extended, which removed the requirement for shade in that area.